The Team:
Each of us work as independent media production professionals who share a passion for using the moving image to make a difference. Over the years, we have come together in various combinations to produce the films listed on the Work page.
We met each other through our work on the award winning PBS series Visionaries. Visionaries presents the stories of social impact organizations around the world and is hosted by actor Sam Waterston.
George Araneo
Producer/Director
George spent five years producing for the award-winning public television series Visionaries. He has produced shows on such diverse subjects as mental health, Alaskan wilderness, addiction, urban renewal, education, and entrepreneuership in the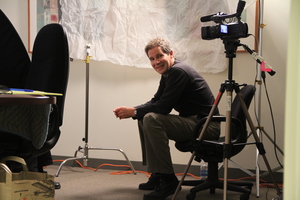 developing world. Prior to attending film school, he worked for 11 years in broadcast television as an account executive for the ABC and CBS affiliates in Denver, Colorado. He has a masters degree in Media and Nonprofit Management from Suffolk University.
Aleksandar Lekic
Editor, Camera, Director
Aleksandar has been an all-around video production person for the past 14 years. As a producer/videographer/editor, he has focused on documentary profiles of several non-profit organizations that have done good work around the globe. His documentary shorts have appeared on PBS, WorldlinkTV, as well as on Serbian national television. Aleksandar has also edited and co-produced short fiction films for the LA-based film company, Anima Films.
Kelly Doran
Location Sound Recordist
Kelly has recorded audio for over 20 years. She works on movies, television, documentaries, commercials, and music recording. She's dealt with a variety of situations, from recording dialogue on a multi-million dollar film to capturing the sounds of rush hour traffic in Delhi, India. The challenge of each different experience is the reward, and the accurate recreation of each sound is always her goal. Kelly has a fascination with sound, music and dialogue. She is always amazed at the subtle ways in which what we hear affects us. She loves to capture those created emotions and allow them to tell different stories.